Grief Assistance Services
What is Grief?
Grief is a natural and universal response to any kind of loss. It is a physical, mental, social and spiritual process of adapting to a major change.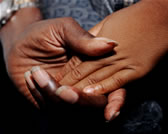 Grief is a journey or a process. Everyone's journey is personal and unique, but there are some common thoughts and feelings that all who suffer grief will share.
You may still feel alone. You may be disappointed in the reaction of your closest friends whom you counted on.
Working through the loss of a loved one is a complex and challenging task. Seeking help or advice from a professional counselor is not an admission of weakness. It is a demonstration of your determination to help yourself during this critical period of adjustment.
You may also seek comfort from a group formed and run by people who have suffered similar bereavement. Grief shared is grief diminished.
How We Can Help
Hospice of Green Country's staff believes that no person should have to grieve alone. We encourage our patient's family and friends to enter into the grief process while we support them emotionally for thirteen months following the death of a loved one. We are here to compassionately listen, to emotionally support them in their darkest days, and walk the journey with them, to help them integrate the loss into their life.
Programs offered through Hospice of Green Country's Grief Assistance Services include:
Home Visits and In-Office Sessions
Memorial Services
Handling Holidays information packet
Resource Library and Death and Grief Education